The Woodlands Cosmetic Dentistry
Come Get Your Perfect Smile
Everyone deserves to have a smile they are proud to show off, but that's easier said than done if your teeth have noticeable stains, chips, cracks, and gaps. Thankfully, Dr. David Cunningham can make any flaw you can imagine disappear using our cosmetic services. Whether you just want a small touchup or a dramatic makeover, he can help you put together a plan and give you the smile of your dreams in just a few appointments. To start getting the smile you deserve, contact us today.
Porcelain Veneers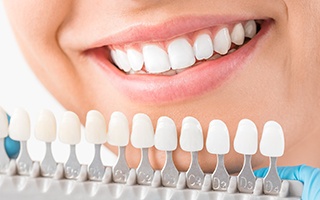 Does your smile have multiple flaws and you don't know which one to take care of first? With porcelain veneers, you don't have to choose, because we can fix them all with just one simple treatment! With porcelain veneers, we can eliminate:
Stains
Chips
Cracks
Gaps
Undersized teeth
Misshapen teeth
Slightly crooked teeth
They are eggshell thin porcelain coverings that are bonded directly to the teeth, and with them, we can enhance a single tooth or give you a full set to completely transform your smile.
Metal-Free Restorations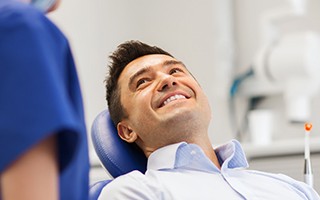 If you're dealing with a damaged or decayed front tooth, the thought of getting a metal crown placed on it is probably worse than just leaving it as is! Fortunately, we can offer a solution that can rebuild your smile's strength and appearance at the same time: metal-free, all-porcelain restorations. Dental porcelain can be used to create a restoration that is virtually indistinguishable from nature. In fact, some of them are so lifelike that even our team has trouble telling them apart from real teeth!
Direct Bonding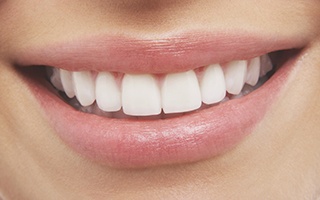 This procedure gives Dr. Cunningham the ability to make minor flaws disappear in less than an hour. Whether you have a permanent stain, small chip, or narrow gap, direct bonding can take care of them all. Dr. Cunningham will place a color-matched composite resin directly onto your compromised tooth so he can literally sculpt it to perfection. Not only is this treatment fast, but it's also completely painless, and the results can be trusted to last for up to 10 years.
Teeth Whitening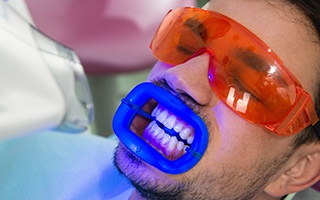 Has a love of coffee, wine, tea, tobacco, or aging and genetics left your teeth looking a little less than white lately? If so, then our professional whitening treatments can quickly restore your smile's natural glow! Whether you use our fast in-office treatment or convenient take-home one, we can guarantee that it will make your smile up to EIGHT shades whiter. From there, periodic maintenance will ensure that your teeth stay nice and bright for a lifetime!
Gum Recontouring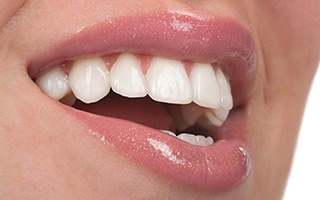 Every picture needs the right frame, and the same applies to the perfect smile. If you have an uneven gum line, or even an overbearing one that causes your teeth to look short and stubby, Dr. Cunningham can easily fix both of these issues using our soft tissue laser. With it, he can painlessly remove excess tissue to expose more of your beautiful teeth over the course of a single appointment.