TMJ / TMD Therapy in The Woodlands
Relieves Chronic Jaw Pain & Headaches
When you move your jaw around, those little joints you can feel right next to your ears are actually called the TMJ. They are what allow your jaw to move fluidly whenever you speak, eat, laugh, or yawn. Like other joints in the body, they can sometimes develop problems due to strain or injury, which can lead to a TMJ disorder, or TMD. The symptoms of TMD are wide ranging and include everything from jaw pain to migraine headaches, but fortunately, Dr. Cunningham is capable of finding and relieving this kind of problem here in The Woodlands. If you're experiencing any kind of persistent pain in your jaw, head, or neck, be sure to give us a call today.
Diagnosis & Treatment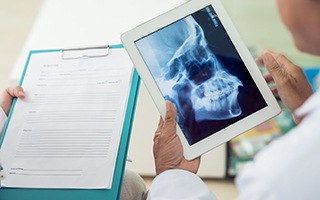 Many things can cause a TMD, but the most common tend to be stress, injury, arthritis, and a misaligned bite. If you're exhibiting the signs of TMD, we'll look at your teeth (as grinding is a common symptom), test the range of motion of your jaw, and take digital X-rays to evaluate the health of the joint. By discovering the root cause of your discomfort, we'll be able to determine the right course of treatment.
Occlusal Splints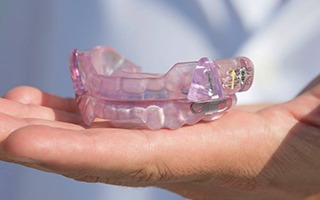 An occlusal splint is a custom-made orthopedic mouthpiece that works by gently shifting the jaw so that the TMJ is in a more relaxed and natural orientation. This will enable the joint and muscles to gradually heal themselves, plus the mouthpiece can help protect from unconscious teeth grinding. A patient will only need to wear it to bed, and after a few months of consistent use, they should be able to go through their day without any TMD symptoms.
TENS Treatment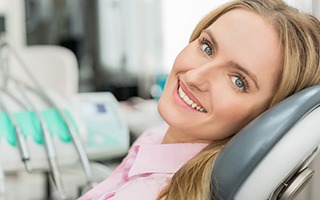 A TENS unit is a small machine that we can use to send gentle electronic pulses directly to tense and spasming TMJ muscles. This will be done by attaching electrodes to the face so the machine can literally massage it. This will help increase blood flow to the area, flush out inflammatory factors, and encourage the entire area to relax. Relief is felt almost immediately, and from there, we can work to find a more long-term solution.
Mora Appliance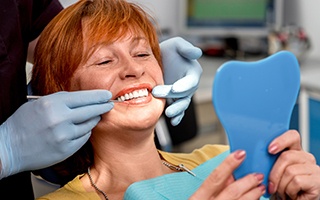 A Mora Appliance is a type of occlusal splint, in that it is a small oral device that is fitted over the teeth in order to help shift the jaw and relieve TMD-related pain. It is made of specially-designed plastic and a metal bar, and a patient simply slips it on before they go to bed at night. This will help the jaw joint sit in a better position, plus it will prevent the back teeth from grinding together.