The Woodlands Emergency Dentistry
In pain? Need Help Fast? Give Us a Call!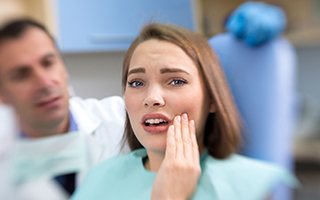 Dental emergencies always happen suddenly and unexpectedly, and they usually come with a lot of pain as well. If you or a loved one suddenly find yourselves in need of immediate dental care, don't worry, you only need to do one thing: call Dr. David Cunningham.
Over the course of his 35 year career, Dr. Cunningham has seen it all and done it all in the field of emergency dentistry, so whether you're dealing with a knocked out tooth, severe toothache, or damaged dental work, he and our team will be ready and able to handle it. We try to see emergency patients as soon as possible after they call in, because if someone is in pain, they shouldn't be left to wait. We'll get you in, stop things from hurting, and then try to provide a more permanent solution if time allows. If not, we'll schedule you for a follow-up appointment shortly thereafter.