Restorative Dentistry in The Woodlands
Cavities? Missing Teeth? No Problem!
Normal wear and tear, dental decay, and unlucky accidents can easily leave a smile looking and feeling far from its best, but for the people of The Woodlands, damaged teeth don't have to get them down thanks to Dr. David Cunningham. Using his decades of experience and the latest dental techniques, he can restore even the most compromised (or missing) tooth and make it look like new again. Are you ready to have your complete smile back? If so, contact us today.
Traditional Crown & Bridge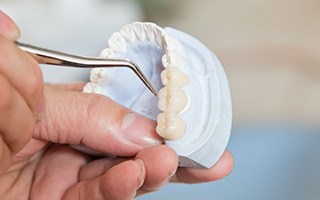 Crowns and bridges are two different kinds of dental prosthetics we can use to fully repair/replace broken, decayed, and missing teeth. A crown is designed to fit over the top of a damaged tooth in order to restore its original shape and strength at the same time, and by attaching it to additional prosthetic teeth, it can support a bridge to close the gap left by missing ones. In either case, it typically only takes two visits to get a completely custom-made restoration just for you.
Tooth-Colored Fillings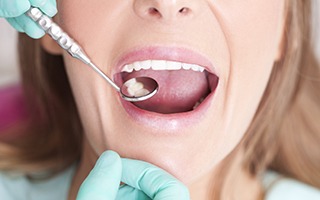 Tooth-colored fillings enable us to do something we never could with traditional silver/amalgam ones: repair small cavities and slightly damaged teeth without altering their appearance. They are made of a composite resin material which can be color-matched to a patient's enamel to make it practically invisible in the mouth. Plus, composite bonds directly to the enamel, enabling our team to preserve more of a tooth's natural structure and strength while restoring it. In the end, you get a tooth that both looks great and can be trusted to last.
Dentures & Partial Dentures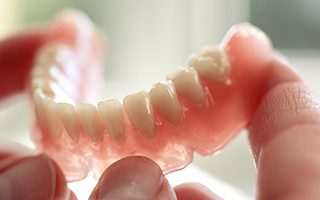 Are you sick and tired of dealing with multiple missing teeth? If so, then we can close the gaps with a custom-made denture. Partial dentures are designed to replace numerous teeth while fitting in seamlessly with the remaining ones (like the piece of a puzzle), while full dentures can instantly bring back an entire row. No matter what you need, we'll make sure you leave our office with a smile that you're proud to show off.
Root Canals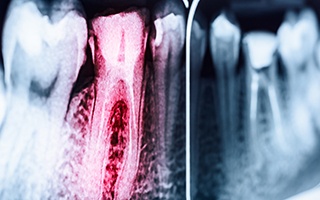 Root canals give us the ability to save even the most damaged teeth, ones that have an infection deep within them in the dental nerve. They also give us the ability to relieve the associated pain, which trust us, can be quite bad! Thanks to modern dental techniques, this often feared procedure is now perfectly safe, reliable, and no more "excruciating" than getting a small filling. At our office, a root canal is always the solution to pain, never the cause!
Extractions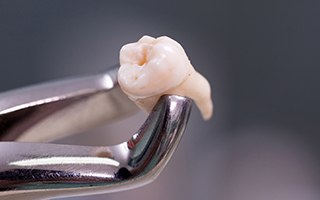 While our number one priority is to help our patients keep all of their natural teeth for as long as possible, sometimes, we're left with no choice but to extract one. This is usually necessary if:
A tooth is too damaged to be repaired
Gum disease has weakened the bone supporting a tooth
A baby tooth refuses to fall out naturally/is obstructing an erupting adult tooth
Room needs to be created for a denture/orthodontic treatment
A tooth has become impacted, painful, or infected (as is often the case with the wisdom teeth)